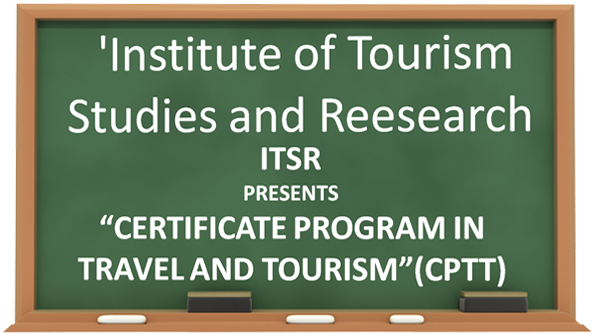 ITSR is an Educational Initiative by Sarang Global Tours LLP, a name known for quality services and trust in Tourism Industry for a decade. ITSR is formed by like minded professionals who wish to share their knowledge for students seeking careers in challenging Tourism and Travel trade. We at ITSR are not only into Ducation in tourism but we are also helping various state govt. Tourism corporations and tourism boards to design specific courses and research work. Please refer the powerpoint presentation below to know more
CERTIFICATE PROGRAM IN TRAVEL AND TOURISM (BASIC)
CPTT (Basic) course offers a flexible approach to human resource development in the fast evolving tourism and leisure scenario. Its structure is adaptive and caters to the career goals of students- both the fresher as well as those seeking betterment in the current position. The course contents are a judicious mix of tourism and leisure specific knowledge and skill inputs, being developed in the background of fast evolving tourism scenario. This course will focus on Leisure Tourism.
Objectives
The programme of study aims at preparing undergraduates for taking up employment in a business at primary level or self employment. The objectives of this programme of study are manifold-
Provide comprehensive perspective on fast evolving tourism environment
Develop in-depth knowledge in the tourism products/offerings with special focus on currentÂ

market

 demands.
DevelopÂ

knowledge and skills

 to sale tourism products.
Develop personality,Â

communication skills

, self presentation.
Equip and enable learners to take upÂ

first line

 job in tourism related business.
Accordingly, the programme has a large component of working in real world situations under the careful guidance of mentors.
Course Structure
This is an intensive programme of study of 1 academic session.
The programme shall be divided into three parts. 2 semesters inÂ

class rooms

 and 1 semester on-the-

job training

. There shall be an examination at the end of each semester.
This programme is a part time programme.
Eligibility
Candidates seeking admission to the CPTT (Basic) programme shall be required to possess HSC or equivalent  in any discipline with 50 % marks in aggregate.
Admission process
Admission to the programme shall be through an admission process of 50 points. A weight of 50% shall be for the performance in an Admission Test (MCQ type). Another 50% points for Personal Interview (PI).
Scheme of instruction, evaluation
There shall be two semesters of taught programmes. 1st  taught semester is of 2 months and 2nd of 3 months duration.
Each course will be followed by periodical tests on basis of MCQ, Presentations and Projects.
Pedagogical approach
The pedagogy followed by the program will be a judicious blend of lectures and practical sessions. In order to make the learning effective, frequent quizzes and presentation will form
part of the instruction.
Practical exercises and trainings
Programme shall increasingly depend up on practical exercises and trainings as a part of pedagogy.
Attendance
A student to be eligible to appear at final examination must have at least 75% attendance in the concerned course.

Course Commencement: 15th July 2015
To talk to our faculty for details, call
Sarang Bhide 9822171668
Nitin Dikshit 9922950438
Dhanshree Bhide 9422707399